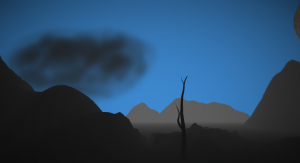 Animal Companion was an exhibit at the Heard Museum for their Super Heroes exhibit from May 2015 to August 2015.  The basic idea was to incorporate five animals that are significant to several native tribes in Arizona into an interactive media installation.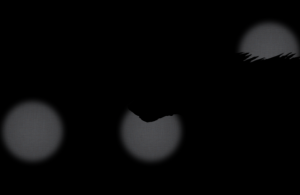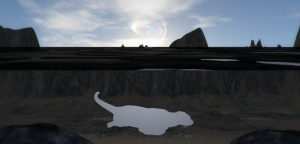 The installation was created by my arts collective urbanSTEW.  Our design concept was for people to enter our corner seeing a desolate landscape with little life or action (top photo).  Then the space would go dark and only the sound and music would change to reflect the environment of the chosen animal.  (The computer chose which animal for a variety of reasons.)
As people walk around our corner lights would illuminate behind a silhouetted animal.  As you move different lights would show different parts of the animal.  (middle photo)
The installation then would transition to a full reveal of the animal chosen, active and playful in its environment.  People can use their voices to vocalize with the animals, and the music would become more active.  (bottom photo)
The technology used to produce this installation was created by urbanSTEW using various open source products (OpenCV, Pure Data, Pd++), commercial products (Unity 3D) and custom software (C++ for audio and music create and camera tracking.)
Animal Companion was commissioned by the Heard Museum.